History of 1220....

We play a versatile combination of classic and top 40 rock hits along with original music (check our
song list
). We have been playing a variety of area clubs, pubs, parties and functions throughout western Massachusetts and Connecticut since 1998 (check out our website to find out when, where and how to get to the next show!)… We are constantly adding new, classic top 40 and alternative material to our song list, so if you have a tune you really want us to play, drop us an e-mail and make a request! Better yet, get on our e-mail list and we'll remind you of upcoming show dates!
The Band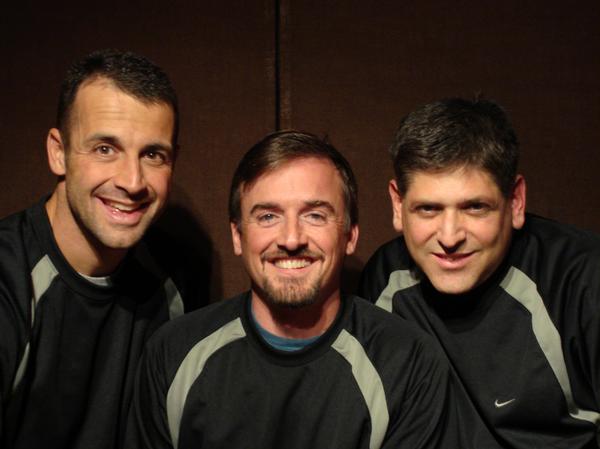 Darryn Izzo (Left), Mike Drumheller (Center), Mike Greco (Right)

Darryn Izzo

Darryn is an over-the-hill baseball player-musician who relives his youth by playing in a rock and roll band. He has been playing area clubs since he was sixteen in various bands, but it wasn't until 2003 and then in 2006, did he re-unite with the final of his two former band mates from FIASCO to form the present line-up... Darryn wanted to continue the discontinued past by luring his poor, starving, former band mates into the "fiasco" of playing in another cover band.That's precisely where the 1220 saga begins!

Mike Greco

Mike is another mid-life crisis guy reliving his former glory days in a cover band. When Mike isn't gigging in the band, he can be found delivering pizzas for his parent company, the corporate giant,
Delivery Express
. Even though Mike initially began as a one-man lounge act tickling the ivory as a singer/piano player covering Neil "Love On The Rocks" Diamond and Jack "Love Boat" Jones covers, he convinced himself that the chicks would really prefer the low vibrating tones of the bass guitar. After his 16th birthday, he ditched his first love and the piano, then applied his fingering techniques to the bass guitar and was quick to advance. After returning to Massachusetts to run his pizza delivery business, Mike's life would change but again one faithful day. While delivering pizza to a band practice he courageously sat in with the band singing, of all things, the Hasselhoff cover, "Do You Know The Way To San Jose?" The band members were breath-taken and after wiping their teary eyes and regaining their composure, Mike's former band mates offered Mike "…the way to San Jose!"…
Mike Drumheller
Mike has been playing drums and percussion since he was last seen on Strummin' Drummers in the late 1970's. Tired of being referred to as "Phil D's kid", Mike left the St. Petersburg-based Russian cover band, Ivan and the terribles. He recently signed a long-term commitment with 1220 and returned to active duty after a sabbatical. After feeling pathetically sorry for Darryn as an out-of-work ballplayer-musician, Mike agreed to a long-term contract with the band with one catch – that he be allowed to turn on his drum machine in an endless loop to come out front and join the other two front men in an uproarious rendition of the Hokey Pokey while "Phil D's" kid ran around wireless singing to all the ladies. So if you see someone "Dancing With Himself" relax! It's just Michael D "Wanting You to Want…" him! Yes, another over-the-hill musician going through a mid-life crisis by manifesting his frustration playing covers in a local band. But it's not his fault! Blame his former band mates. Mike is a solid performer and has quickly added his percussive and vocal talents to round out the 1220 line-up.